Training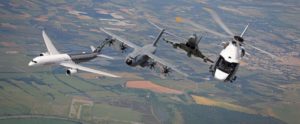 amaco GmbH offers training services for pilots and flight crews who are required to complete ground school and simulator training that is specific to the operator and aircraft type. A full range of subjects are available and we create the required training and dispatch qualified instructors to deliver the training courses. Our training instructors all come from training positions in the aviation industry and have extensive experience in the delivery of training and come with verifiable qualifications and career history.

Since our founding, our top priorities have been to build relationships on the values of trust, integrity, and performance with our clients. We have a remarkable cadre of dedicated and talented people doing exciting and rewarding work for our clients. Our team is working directly on-site or in close proximity with our clients, so we are at the heart of your missions. 
Our training capabilities include:
FFS training

APT/FPT training

Ground school: performance, systems, Q&A, ground school tests

Developing of courseware ready for your training objectives
You will enjoy individual mentoring at amaco GmbH.  Together with you, we will discuss aspects such as piloting experience, SOPs, checks, failure policy, official regulations, documentation, training recordings, and so on to specify your training needs and characteristics in advance. We can therefore offer you and your pilots training that perfectly fits your requirements and needs. 

Consulting
amaco GmbH furthermore helps airline training management adapt to the highest airline industry standards. Our management consulting capabilities include:
Identifying specific training needs, concepts, risks, strategies, and responsibilities.

Analyzing the value of training agreements

Validating training decisions to support growth and transition 

Developing training strategies, particularly in emerging markets 

Developing and evaluating organizational strategies